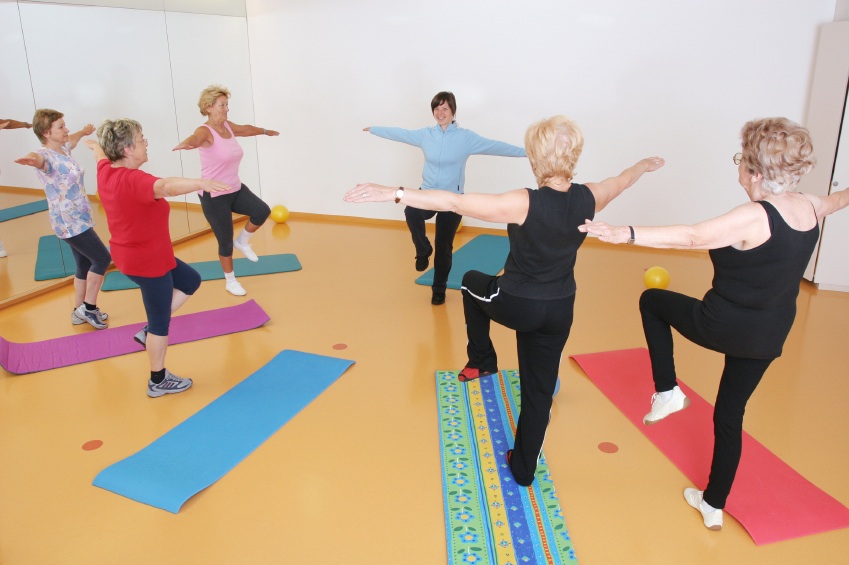 Group Exercise Classes
A group exercise class is a great way to improve your strength and energy in a social, supportive atmosphere. You can meet new people, get fit, and have fun.
What to look for
A group exercise class for older adults should have four major components: strength, balance, cardio-respiratory, and flexibility. Strength training through resistance exercise will keep your muscles and bones strong, reduce bone loss, and improve your balance and posture. Balance training will also improve your balance and posture, helping you avoid falls. This is especially important for maintaining your independence. Cardio-respiratory training through aerobic exercise will give you more energy and will make your heart and lungs stronger and your circulatory system more efficient. Flexibility training through stretching exercises will keep your muscles relaxed and joints mobile to allow you to move more easily and with less pain.
Besides having these components a good group exercise class should be taught by an instructor who understands the concepts of modification and progression. Everyone is different and although a group instructor can not give you the individual attention a personal trainer can, he or she should encourage you to exercise at your own level, modifying where you need, but challenging you to do more when you are willing and able.
A group exercise class aimed at older adults will be taught without a lot of bouncing and jerking motion. It should challenge the muscles and heart but not cause pain in your joints.
Finally, a group exercise class should be taught using music that is fast enough to help you exercise at your target heart rate but not so fast that you can't keep up. Undoubtedly your instructor will be playing music that the class wants to hear. That's not always an easy task so be patient with the instructor. You might like Big Band and Swing but your classmates might like Rock n' Roll!
Where I'm teaching
I am currently teaching in East York, Scarborough, and Riverdale. See side panel for details.
Finding a class in your neighbourhood
Group exercise classes for older adults are offered at various places in the city. Check your local YMCA, JCC, and Community Centres in your neighbourhood to see if there are classes available. If you live in Toronto, check the Toronto Parks and Recreation web site or the Toronto Board of Education Continuing Education catalogue for classes. centre. I also have colleagues in other parts of the Greater Toronto Area who teach group exercise classes for older adults. Contact me for details.
Have a group, need a teacher?
If you have a venue in Toronto, Ontario, I am available to teach group exercise classes for older adults. Please contact me for scheduling and rates. If you hire someone to lead a group exercise class, make sure he or she is currently certified to teach as a group fitness instructor and has either certification or experience leading group exercise classes geared towards older adults. That will help you know that the instructor you are getting understands that many of you may not have been exercising regularly, may have conditions which limit movement such as osteoporosis, and want to work out with low impact on the joints.
Contact information for group classes:
Gentle Fitness class at St. John's United Church, 2 Nobert Rd., Scarborough, Ontario. Wednesdays: 1PM - 2PM starting September 19. Contact Chris for details. Click here for a map.
Staying Strong/Keeping Fit classes at Cosburn United Church, 1108 Greenwood Avenue, Toronto, Ontario. Two levels of classes on Wednesdays: 9:30 - 10:30 AM and 10:45 AM - 11:45 AM. Contact the office manager at Woodgreen Community Services for details on when current sessions are running and how to register. Phone 416-467-1166 Click here for a map.
Gentle Fitness and Active Fitness at Riverdale Presbyterian Church, 662 Pape Ave. Click here for a map).
Gentle Fitness: 11:30 AM - 12:30 PM Tuesdays, Active Fitness: 12:30PM - 1:30PM Tuesdays, Stretch and Strength (combined class): 12:00 noon - 1:00PM Thursdays starting September 25
Click here for details.
Urban Poling (Nordic Walking) classes at various times and locations throughout the year. Regular Pole Walking and Activator Pole Walking (for post-rehab and mobility challenged individuals) running this spring and summer in Riverdale, East York, and downtown. Contact Chris for details and to pre-register.